Eye care then and now. What are eyelash conditioners for? What is Nanolash?
Once, it used to be better – repeat malcontents continuously. But, was it, really? Back then, there were not as many magnificent cosmetics, beauty parlours, devices and beauty treatments as these are available now. In the past, people benefited only from natural boons. Nevertheless, it does not mean that people drop the habit of enjoying what the Mother Nature has in store for them. How did taking care of eye skin area look like in the time of our great grandmothers and grandmothers?
What was on top back then? Herbs, fruits, vegetables, grains.
Our ancestors used everything which they found on a meadow, field and in their garden to maintain their face, body and hair in a good condition. For example, they picked and dried herbs, bottled fruits and vegetables and planted grain seeds. Certainly, they acted in the principle of 'The best are only the natural ingredients'. For that reason, fairly popular were the herbal compresses, vegetable infusions and flower water. Some of the mentioned preparations are still used for the skin and hair care also in the present-day world. However, let us talk about the methods used by our great grandmothers to nurture eye skin area.
Several dozen years ago, or even several hundred years ago, eyebright was widely-used in the field of ophthalmology. Various medical preparations were made out of eyebright, such as, compresses or infusions. What is more, eyebright has got moisturizing, astriction, soothing, anti-inflammatory and antimicrobial working. Furthermore, it is also used in the treatment of eye and the skin area around them diseases and allergies. It is also helpful in healing of conjunctivitis, eyelid inflammation, hordeolum, excessive lacrimation, dryness of eyes, headaches and insomnia. Infusions and compresses are especially recommended to those people who work at the artificial lightening, smoky or dust-full spaces and who suffer from tiredness of eyes. Moreover, eyebright is also used in the field of cosmetology. It is a component of creams, lotions or make-up removals and preparations for eye skin area treatments.
Similarly popular to eyebright medical plant is chamomile. It, likewise, has got antiallergic, moisturizing and soothing properties. What is more, it expedites wounds healing, neutralizes bacteria and unpleasant scents. Generally, chamomile is practiced in a form of a compression, steam baths and infusions. It can be also helpful in skin inflammations, burns, skin allergies, sunburn and scalds. Furthermore, chamomile is a component of various cosmetics and medications.
It is not only tasty, but also heals. And what is more, it can be found in every garden. Cucumber is a vegetable, which was widely-used in a skin care processes. It has got purifying, soothing, moisturizing and refreshing qualities. What is more, cucumber can be applied by the people who suffers from extremely sensitive skin ailments. The medical activities are mainly hidden in the skin and flesh of a cucumber. This vegetable is also used in cosmetic tonics which are applied on the face. Moreover, slices of a cucumber are also applied on the eyes to remove shades and swellings. It is also advisable, to rub the facial skin with the cucumber's skin.
Our great grandmothers benefited also from the advantages of sour lemons. This fruit is especially valuable because of its lemon acid and essential oils. It comprises of C vitamin which is responsible for the immunity. What is more, lemon brightens the discolorations, smoothens and purifies skin. Nowadays, quite popular are cosmetics, for example, creams, tonics and masks produced on the basis of lemon extractions.
The present-day eye care. Eyelash conditioners.
Today, we have countless numbers of eye care cosmetics, beautifying treatments etc. However, contemporary aesthetic medicine has not forget about natural favours used in the past. The natural ingredients are used, for example, in eyelash conditioners. These are mainly plant extracts, moisturizing substances and vitamins. Obviously, these ingredients enhance growth, thickness and density of eyelashes. Furthermore, these accelerate regeneration, influence the appropriate moisturizing level, nourish the inner structure and strengthen eyelash roots. Additionally, natural components nourish eyelid skin and the skin around eyes. These also prevents from irritations and allergic reactions of the skin.
How an eyelash conditioner should be used? The greater number of eyelash conditioners are equipped with a brush especially designed in such a way to enable the flawless line painting on the eyelids. The application is to be performed every day after the precise make-up removal. The noticeable effects are achieved after approximately three weeks, and the whole course of treatment lasts approximately three months. After this time, the conditioner is to be applied every few days.
What is Nanolash?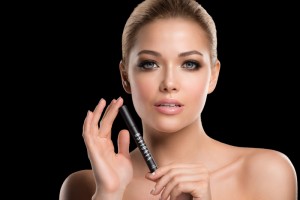 Nanolash is an eyelash conditioner created on the basis of natural ingredients. These, in turn, accelerate the growth of eyelashes, enhancing their thickness and volume. They bring the regeneration into motion as well. The natural ingredients strengthen and rebuild eyelashes. Moreover, these components boost the work of follicles to grow new eyelashes. One bottle of Nanolash contains 3 ml of the cosmetic. This amount lasts for the whole beauty treatment which equals six months. Nanolash eyelash conditioner provides only natural effects and immediate results.
Did it really use to better? Maybe yes, maybe not. We would never get to know that. Nevertheless, it is worth using cosmetics with natural ingredients, which take care of eye skin area and the eyelashes.
24 Comments "Eye care then and now. What are eyelash conditioners for? What is Nanolash?"
I heard that castor oil can be applied to your eye area, has any of you ever tried it?

I only apply it to my lashes and eyebrows but it irritated my eyes a bit, I had no idea it can be applied to the skin as well

I use castor oil in my OCM face wash method but if you're looking for something to lengthen your lashes then I'd only recommend serums as for me, nanolash it one of the TOP ones

before I bought this serum I was looking for online reviews and this one appeared on a majority of beauty blogs and I can confirm that all the posotive reviews are 100% true! It really is an amazing product

seriously! It worked so great for me as well! the most important thing is that it brings results very quickly! only after about two weeks I could see the difference and no I have very strong and long lashes, that's amazing

It's good to hear that people like going back to the old-fasioned and natural methods of care

I love applying argan oil under my eyes, it works a lot better than an eyebright gel

It's totally opposite for me: eyebright is extra-gentle for me whilst the oil irritated the skin around the eye;/ It becomes red and but when I use it all over the body and the hair, the effect is really nice

where can you buy this serum ?

I'd lobe to use such a serum but unfortunately, I am allergic to most eye cosmetics and can tolerate only the most gentle and mild ones

my sister has the same problem but this serum never caused any allergic reactions and give outstanding effects

I read so many blogs where girls praise nanolash, they say that the serum is very gentle and even suitabe for contact lense users. Luckily I do not have to worry about it so for me the effects are stunnig! great serum:)

my eyelashes have improved since I started using natural oils including castor oil. they are stronger and darker but the latter may only seem to me because it may be a matter of moisturizing (they were very dry even though I have a good mascara it still dehydrated the lashes ). I have never tried such a thing but I'd love to, one day. As I see it, it has a nice composition, but it's to pricey for me at the moment .

It's ordered! I am waiting for the shipment and I will start growing my lashes long :))

The best serum I ever used. It's not cheap tho but worth every penny. I had a very expensive serum once and it wasn't half as good as this one. I can truly recommend it.

It's perfect in every detail, my number 1 when it comes to lash growtj serums. It's one of the most effective cosmetics ever, it's very rare that something brings that spectacular effects! What's more, it works very quickly, only a month of regular use and my lashes are very long

I never worried about the length of my eyelashes, perhaps because they aren't short and Iwear glasses so that I cannot see them so much, but a few months ago I was taking a strong antibiotic after which my eyelashes began to fall out and this serum saved me. Literally after a week of use they stopped falling out. At the moment I started the fifth month since I use nanolash and I have thick, healthy and strong eyelashes and by the way so long that I stain my glasses with mascara 🙂

great! Im buying it myself!

everything sounds great but only until you see the prices, not everyone can afford such expensive cosmetics

this serum is enough for six months of use so spending such amount of money twice a year is not that terrifying plus you get incredible effects

you can save up some money if you order two serums or even better – three serum, you can order with your friends

The second time I ordered 2 for myself because I'm very happy with this serum and now I use it all the time to enhance the effect. Sure, these two packages will be enough for a year and a half with such a rare application 🙂 because now I apply it 3 times a week.

right now I only use it prophylactically, so that they will be long the entire time. Sometimes I tend to forget and throughout the week I apply it only once and yet the effect persists.

I have read so many encouraging comments and I think that I'll finally order it 🙂