How to freshen up oily skin throughout a day? HOW-TO: Oily skin make-up
Oily skin usually equals acne, excessive sebum production and enlarged skin pores. Thus, it's really hard to do delicate make-up that remains untouched for a few long hours. Before explaining how to apply makeup to oily face, we will shed light on how to prepare oily face for colour cosmetics and how to freshen it up during a day.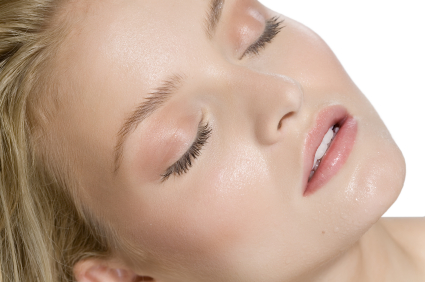 How to prepare oily skin for make-up?
Before starting doing make-up, you must make your skin ready for receiving the colour cosmetics. To do it the right way, first you have to clean the face with a gentle wash that is antibacterial and helps regulate work of sebaceous glands. Use a product that doesn't contain alcohol since this substance causes excessive skin dehydration, which in turn intensifies the oily skin problem even more. Once the face is clean, you can reach for a facial toner. It must be realized that application of colour cosmetics to face that hasn't been cleansed results in clogged skin pores and comedones appearance (make-up products mix with sebum and impurities which has a negative impact on skin).
A huge portion of hydration is what oily skin needs. However, in order to replenish oily skin with water, it's better to resign from rich moisturising creams and replace them with light creams of gel-like or non-oily formula. Instead of such products, you can give a mattifying make-up base a go. This product is supposed to leave skin smooth and extend the lifespan of colour cosmetics.
How to freshen up oily face during a day?
In the case of unhealthy face shine, it's worth taking advantage of oil blotting sheets. Once you have a pack of those, take one out and press it to the face to collect the excess of sebum, especially the sebum on nose, chin and forehead. Also, it's better not to touch face with your hands because this encourages sebum production. If you've run out of the oil blotting sheets, you can make use of regular tissues; after removing the unwanted sebum, you'd better powder the face.
How-To: Oily Face Make-Up
In order to camouflage redness and other small blemishes, you have to use a concealer and apply it topically. Naturally, it goes without saying that the concealer you use should match your complexion tone. In the case of larger blemishes, it's better to use a special green antibacterial concealer.
Apply a foundation. Which one would suit oily skin best? Well, basically the one displaying mattifying and camouflaging properties. It should neither be oily nor contain oils. Use a brush to apply the foundation to let the product melt into skin. You shouldn't use your fingers to spread the foundation on the face because in this way you won't cover the face evenly and – what's even worse – you will encourage sebaceous glands to work.
Now apply a mattifying powder. In the case of oily skin, these are transparent powders recommended which composition bases on natural ingredients such as bamboo ot rice powder. This type of products contains neither irritating nor dehydrating synthetic substances.
Use a lightweight, loose blusher/bronzer. A good choice are mineral cosmetics that leave face subtly colored and still allow free skin breathing.
In order to prevent oily eyelids, this skin area must be degreased due to a facial toner and cotton pads. Then, you have to pat a really tiny portion of mattifying and transparent powder and follow with an eye-shadow keeper afterwards. In the case of oily skin, it's better to choose cake and mineral eyeshadows because it's highly possible for the creamy ones to look bad when combined with sebum.
If you want to apply eyeliner to oily eyelid, it's better to reach for a waterproof and liquid one. A regular eyeliner might vanish when combined with sebum.
A waterproof product should also serve its purpose in terms of lash coating. Application of a mascara that is resistant to water minimizes the risks of dark stains that appear due to melted mascara.