How to recognize a natural soap? Types of natural soaps
Soap is one of the basic cosmetics used by both men and women. Along with cleaning, it also cares for the skin if it is a 'real' soap, that is, natural, not synthetic. How to tell if a soap is natural and what are the types of natural soaps? What are the characteristics of the particular types of soaps (castile, marseille, sulphur,  mud and grey soap)?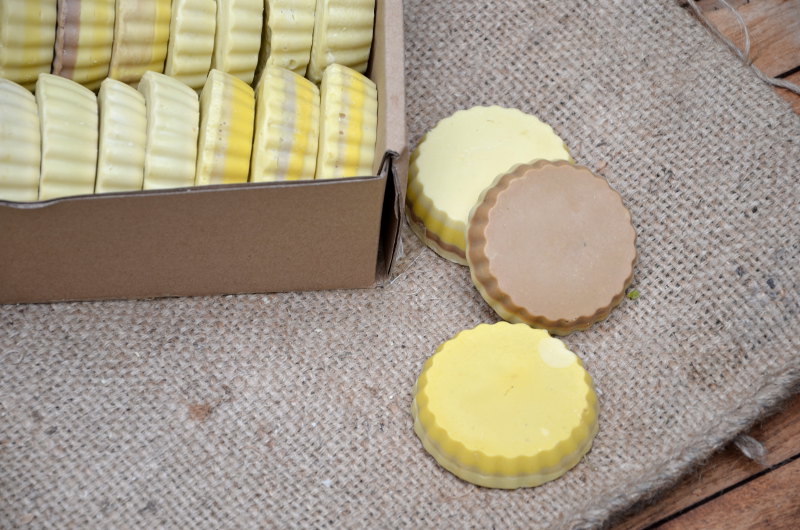 How to recognize a natural soap?
Stores are full of soaps in a variety of colours and shapes. However, most products labelled as 'soaps' are not actually real soaps. A classic soap is a mixture of fat – vegetable, rarely animal – sodium hydroxide and water. In shops you can mainly buy washing bars or syndets, which only in maximum of 10 percent consist of natural soap. Syndet also contains synthetic detergents, saturated fatty acids, fragrances, colouring agents and preservatives. Although it foams well and removes dirt, it can irritate the skin and change its pH thus cause excessive peeling. To neutralise its negative effects, syndets are often enriched with emollients designed to regenerate the lipid layer of the skin.
A natural soap, based on natural ingredients, contains:
laurel oil, which renews the protective hydrolipid layer of the skin;
olive oil – it softens the skin and reduces water loss;
Shea butter, which reduces wrinkles and has anti-inflammatory properties.
In order for the soap to become a cosmetic that cares for the skin, it needs to cure for at least several weeks. A ready soap has a pH similar to our skin so it neither dries nor irritates it. How to recognize a natural soap, then? First of all, price usually reflects quality. A good soap will certainly not be the cheapest. Second of all, pay attention to the list of ingredients. Without a doubt, it should be as short as possible. Natural soaps contain 4-5 components and optionally some additives in the form of essential oils and natural dyes (the list of ingredients of syndet is longer but this is its disadvantage).
Types of natural soaps
Castile soap
A soap that originated in the Castile region of Spain. At first, it was produced exclusively from local olive oil. In fact, from the twentieth century every soap based on the natural vegetable oil (not animal) was called a 'castile' soap. Castile soap is an extremely gentle cleaning products that effectively cleanses the skin at the same time moisturising it. It is good for every skin type, regardless of age – even for children and allergy sufferers.
Marseille soap
It originates from Marseille, where it has been produced since the 16th century. Similarly to the Castile soap, it is based on vegetable oil and is categorized as a potassium soap. The traditional marseille soap is made of olive oil, though its cheaper versions are based on palm oil. It is famous for the content of vegetable oil (about 72% of vegetable fat) and beautiful fragrance. The most famous Marseille soaps smell of lavender and are purple. None should contain artificial colours and fragrances.
Marseille soap is suitable for every skin type. The oil moisturises the skin and leaves a pleasant film on it. The soap cleans and cares for the skin, it can be used for intimate areas. Marseille soap flakes are used to wash clothes, even children's.
Sulphur soap
It is based in 5% of pure sulphur compounds, that give it drying properties and, when used regularly, regulate the secretion of sebum. To lessen the intense effects of sulphur, the soap contains moisturising substances, such as olive oil, vitamins B, C and E, and iron. The soap is a wonderful cleaning product, though it's advised to use it from time to time only. When used often, it can dry the skin, which will eventually crack and become hypersensitive.
Sulphur soap is often used in the care of oily and acne skin and instead of a shampoo in the case of greasy hair, seborrhea and dandruff.
Mud soap
It is based on vegetable oils with the addition of peloid. It leaves the skin a bit acidic, which regains its natural pH as a result. In addition, the soap enhances the reconstruction of the hydrolipid mantle. The phytohormones contained in it (plant hormones) accelerate the cellular metabolism and cellular energy production, which stimulates the collagen synthesis. The mud purifies the skin and improves its elasticity with time. What is more, the mud improves the condition of dry, cracking skin.
Grey soap
This is a potassium soap, a mixture of potassium salts of higher carboxylic acid, glycerol, citric acid, sodium chloride, etc. It is devoid of artificial colour and fragrances, and, unlike sodium soaps, it is almost odourless. Such soap is recommended for skin allergies, because it rarely sensitizes.
The soap is relatively soft and well soluble in water. It effectively cleanses the skin and has antibacterial properties, hence is recommended in the care of acne skin. Grey soap can be used for washing hair and clothes as well. It's believed that this soap can wash absolutely everything.