Energy touch from Kolastyna. Energy Touch collection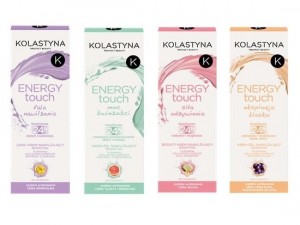 Four creams Energy Touch from Kolastyna is what dry, sensitive and tired face skin is craving for. If you want to add some energy to your complexion, you should give a chance to one of these cosmetics.
Creams from Energy Touch from Kolastyna are made for moisturization. The collection comprises of cosmetics recommended for particular skin types. Furthermore, creams can be applied both AM or/and PM. These are of gel consistency and are sold in 40 ml tubes. What are products creating Energy Touch collection?
The first cream, Energy Touch Radiance Explosion Dull Skin is destined for tired, dull and deprived from natural gleam and freshness complexion. During the regular application, face skin is restoring radiant and ruddy appearance. Furthermore, the skin tone becomes evened and skin deeply hydrated. What is more, the cream includes oxide molecules which help with keeping the appropriate moisturization level in the deepest layers of dermis. What is more, this component is also able to reduce swellings and dark circles around eyes. Basically, the composition of Energy Touch Radiance Explosion Dull Skin is also rich in collagen, elastin and glycogen providing skin with firmness and elasticity. Furthermore, the nourishment is given by Acai berries containing a lot of vitamins and minerals. Finally, the cream is closed in an orange tube.
The second cream, Energy Touch Hydration Wave Normal Skin despite oxygen, collagen and elastin comprises also of passion fruit extract, rich in C vitamin, which nourishes, provides the immunity and highlights discolourations. However, this Kolastyna product moisturizes only the outer layers of skin. Overall, the cosmetic is sold in a white and purple tube.
The third product, Energy Touch Freshness Power Oily/Mixed Skin includes special molecules absorbing the excess of sebum and limiting face skin shining. What is more, the cream comprises of grapefruit extract which is responsible for refreshment, purification and skin contraction. The cosmetic moisturizes complexion only in a slight degree since oily and combination skin do not need such an amount of water. Freshness Power cream is closed in a white and green tube.
The last component of Energy Touch collection is Energy Touch Nutritional Force Dry Skin. The moisturization, nourishment and irritation relieving is possible thanks to argan oil and E vitamin. Additionally, the ingredients smooth and brightens skin up. The last piece of information, this cream is sold in a pink tube.