How to apply makeup base? Types of makeup bases
The main purpose of applying a makeup base – also known as makeup primer – is to extend lifespan of colour cosmetics, which can reach even 12 hours! Yet, this is not the only function of this cosmetic. Makeup base also smooths skin out and camouflages discolorations together with other skin imperfection. What types of makeup bases do we have? How to match makeup base to skin type and how to apply it?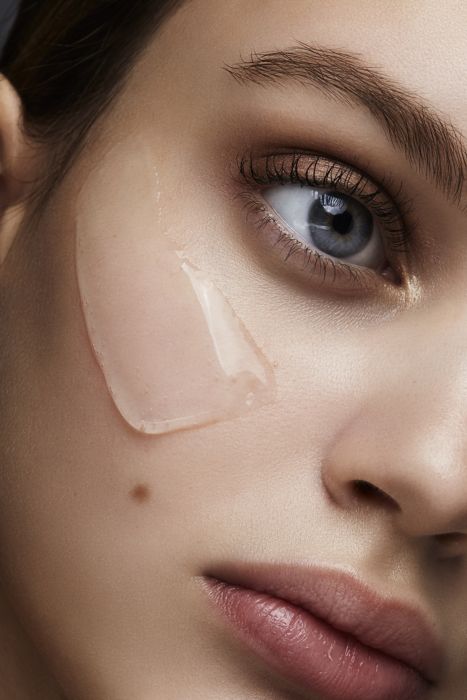 Types of makeup bases
There are numerous types of makeup bases. For example:
Silicone Makeup Base
This is the most common type of makeup base. Silicone is highly occlusive which means that it creates an impermeable layer on skin that might cause clogged skin pores and encourage bacteria multiplication. Moreover, silicone makeup base is water-resistant therefore its removal requires use of oils. It should be realized that it is not advised to apply silicone foundations to silicone makeup bases; it is definitely better to replace it with a light water-based foundation. Silicone makeup base is recommended to dry and mature skin type.
Natural Oil Makeup Base
It also creates a layer on face that a foundation adheres to. The function of makeup base can be performed by light natural oils such as raspberry seed oil, rose oil or linseed oil. This type of natural oil can be added to foundation so as to facilitate its application. Basically, oil makeup base goes hand in hand with either a light foundation or dry mineral foundation. It is recommended to dry and oily skin types. It is mainly made up of glycerin which displays hygroscopic and moisturizing properties.
Glycerin Makeup Base
This type of makeup base complies with water-based foundation, yet it encourages mineral foundation to cake.
Gel Makeup Base
First of all, it does not create an oily film on skin, it reduces skin pores, smooths skin out and replenishes skin with water. The good news is that it can be applied prior to mineral and regular foundations. It is recommended to oily skin owners because it limits excessive sebum production.
Mattifying Makeup Base
It fulfills its task really well. Mattifying makeup base is made up of talc, aluminium, magnesium aluminum silicate or boron nitride. It creates a layer that reduces visibility of skin pores, absorbs sebum and is not so occlusive as silicone makeup base. Mattifying makeup base might be fairly troublesome to distribute on face and is easy to wipe off therefore it requires skillful application. It is not recommended in the case of dry skin since it brings out dry skin areas. Obviously, this type of makeup base suits oily skin type just perfectly.
Makeup Base with Silica
It mattifies and smooths skin out as well as reduces visibility of blemishes. Silica though might enhance dry skin areas and when used long, it might dehydrate epidermis. Still, it is advisable to apply it to problematic skin type and combine with lightweight foundations.
How to match makeup base with skin type?
Dry and combination skin requires makeup base that would smooth it out and prevent dry skin areas from being exposed. To tackle this, you should take care of adequate skin hydration before applying makeup base. In the case of dry skin, the best choice is silicone, oil or glycerin makeup base. You should also add a drop of natural oil to the foundation to help it adhere better.
Oily skin needs makeup base that collects excess of sebum and displays mattifying properties. These conditions are fulfilled by makeup base with silica, powder, mattifying and gel makeup base. Although foundations adhere to oily skin better than they do it to dry skin, the excessive sebum production leads to caking and wearing off of the foundation.
When it comes to mature skin, the best choice is silicone makeup base.
How to apply makeup base?
Before applying makeup base, face must be cleansed and treated with a moisturising cream. You do not have to squeeze out big portions of makeup base to cover the entire face since just small amount would suffice. Makeup base has to be applied similarly to moisturizers, which means that it should be distributed from the middle face parts outwards. Makeup base should coat face with a really thin and insensible layer. You can follow with a foundation when makeup base absorbs fully.