How to choose a mineral foundation? Types of mineral foundations
Being more gentle to skin than regular commercial foundations, a mineral foundation makes the top choice of those either with allergy- or acne-prone skin. Why is that? Are there more benefits of replacing a regular foundation with a mineral one? If so, how to choose the most suitable product? And finally, how many types of mineral foundation do we have?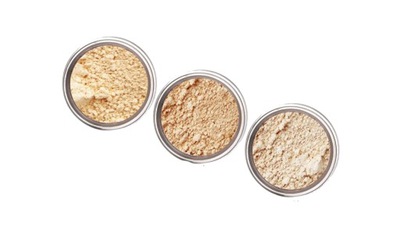 Mineral Foundation: Constituents and properties
Mineral foundation – similarly to other mineral makeup products – is made only from natural substances, that are powdered minerals. Among them you can find the following:
pigments that are responsible for gifting a particular makeup product with a shade and tone (e.g. iron oxide, zinc oxide, titanium dioxide, ultramarine)
fillers that reduce the appearance of wrinkles, creases and enlarged skin pores (e.g. talc, mica, silicon dioxide, kaolin, yellow/red/green clay)
However, for many people the all-natural composition of mineral cosmetics isn't the biggest asset because the above-mentioned ingredients can be also found in regular foundations. The thing that the users appreciate mineral foundations most for is the fact that these products are completely free from:
preservatives (e.g. parabens)
colorants
aromas
silicones
Once again, mineral foundations are composed of ingredients of natural origin only. This is why they don't only handle the main task of a typical foundation, that is covering up skin imperfections, but they also soothe and relieve tired and fatigued skin. Additionally, mineral foundations are antibacterial and help oily glands to start functioning properly. These qualities make a mineral foundation a perfectly suitable product for acne- and allergy-prone skin.
How to choose mineral foundation?
The process of choosing a mineral foundation looks similar to selecting a regular foundation. This means that the product has to match two things: skin shade and type of skin.
The right shade of mineral foundation

Foundation that will look best on your skin – including the mineral one – should match both your skin color and tone. In other words, you must be able to blend the foundation into skin seamlessly. When it comes to the skin tone, of you want to define it, try looking at it in natural daylight. We have to warn you though, choosing the most appropriate shade won't be easy, especially if you order it online. In this case, we suggest you to order a few testers first.
Mineral foundations are often available in the following shades (arranged from the lighter to the darker): beige, natural, golden and sunny.
Skin type

Those of you who have oily or acne-prone skin should go for a mineral mattifying foundation. A highlighting foundation makes a good solution for those with dry and pale complexion. Finally, when you are getting ready for some big life event, try using a high-coverage mineral foundation.
Types of mineral foundations
We can divide mineral foundations into two main categories: the finish (matte, radiant, coverage) and the texture (loose, cream, liquid).
Types of finish created with mineral foundations:
matte finish – this type of foundation is supposed to cover up skin imperfections (e.g. acne) and balance sebum secretion. Additionally, a mineral foundation that gives you matte finish is antibacterial and really gentle to skin. It works best for oily skin.
radiant finish – this foundation leaves skin looking fresh and creates youthful radiance without giving the impression of "shiny" skin. Thanks to this, dull and tired-looking skin becomes highlighted. Moreover, this product is expected to reduce wrinkles and refine skin's texture.
medium/high coverage finish – this foundation has better coverage properties than mattifying foundation. In fact, the latter leaves skin matte, whereas the former fully covers up skin imperfections and blemishes. For that reason, a medium/high coverage foundation works best when you apply it before an important business meeting or a party. Its additional asset is that it doesn't create the mask effect.
Types of textures of mineral foundations
Loose powder mineral foundation

This is the most common form of mineral foundation. Although it may be more problematic to apply it to face evenly when compared to a cream foundation, it's all-natural because there is no need to use additional substances that transform the powder into liquid/cream.
Cream mineral foundation

Although powder is the basic form of mineral foundation, no synthetic substances are used to produce a mineral foundation in its creamy form. In most cases, a cream mineral foundation is combined with babassu butter that is fragrance-free, doesn't contain any additives or colorants. What's interesting, mineral foundation in its creamy form is even recommended to oily face since it doesn't cause uncontrolled shine.
Liquid mineral foundation

There are some preservatives needed in order to produce a liquid mineral foundation – they prevent skin infections. That's important because water is a perfect environment for microorganisms to develop and multiply.