The benefits of all-natural and organic beauty products
The trend for turning to natural solutions and being eco-friendly has been prevailing for a few years now. More and more space in stores is devoted to organic products. Nowadays, taking care of yourself isn't limited only to following a well-balanced diet and regular exercising – it includes application of the right organic products as well. The key to youthful and stunning looks is a daily beauty ritual carried out with all-natural cosmetics. In the era of so many various organic beauty products, each one of us can find cosmetics to satisfy all our needs.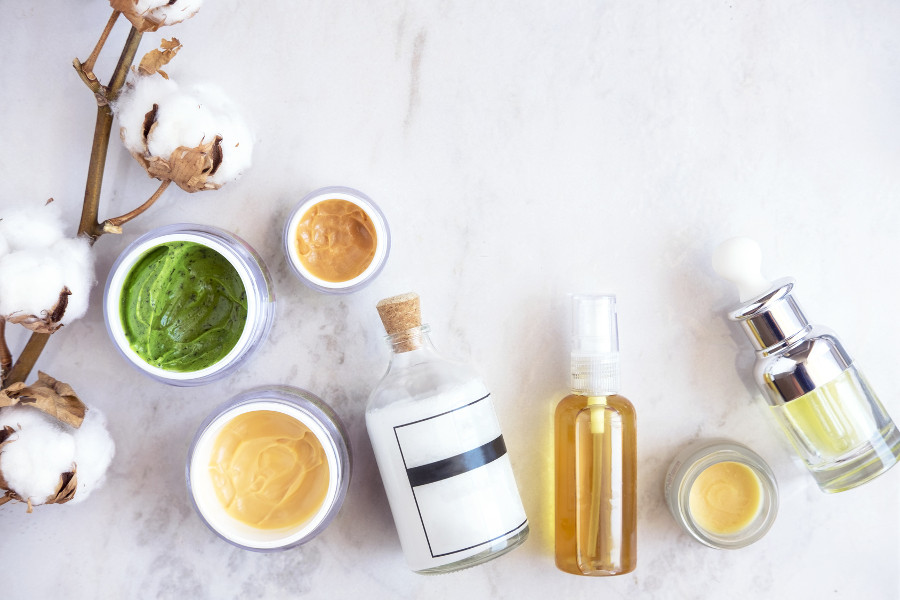 We all dream about the skin that is flawless and free from any type of imperfections. Natural personal care is the only right solution that can bring us closer to achieving this goal. On the market you can find plenty of organic beauty products because their popularity is continuously growing, which is good!
Why should you go on natural personal care?
Mostly because such organic beauty products contain less chemical substances that we're already exposed to as we do the laundry, clean up the house or do the dishes. Contaminated air that we inhale every second also has a negative impact on our skin. Now, when you have the choice, you can decide what substances you want to treat the skin with. Give your face some rest from all the synthetic substances it's surrounded with.
The lack of artificial ingredients in natural toiletries makes it easier for our skin to absorb the nutrients. The list of ingredients that organic beauty products are formulated with doesn't contain preservatives, which in fact do little in terms of improving the skin. You can't expect the complexion to look clean and healthy unless you keep treating it with all-natural cosmetics, which are formulated with safe and non-irritating substances. You won't find any controversial constituents in the natural beauty products. It must be realized though that the results of treating skin with all-natural cosmetics aren't shown overnight because skin needs time to get used to new ingredients whose effects aren't boosted with any synthetic amplifier. Just stay persistent to notice how grateful your skin will become for being treated so gently.
Perfect for everyone
Natural preparations have neutral aromas so everyone can use them. There is no division of women's / men's products. Natural cosmetics can be used by every member of the family, even the youngest one. Owing to the all-natural composition, such products can be used no matter the sex, skin type or age you are.
Nothing but benefits
In general, store-bought beauty products only camouflage the skin concerns instead of encouraging the tissue to regenerate. They dehydrate T-zone and fill the wrinkles with silicones. Natural cosmetics work in a completely different fashion. They promote skin self-healing processes and help it function properly. Although you have to wait a little bit longer to see the results, once they appear, they are long-lasting.
Plant extracts that natural toiletries are made up of are totally safe and play in tune with all the processes occurring in the human body. It was proven that natural herbal extracts are able to deal with all skin concerns. And this goal can be achieved with no SLS-s, parabens and silicones, which in fact aren't that well-tolerated by the skin.
Natural herbal and plant extracts penetrate skin deeply without creating any greasy layer on the face. There are no negative effects that natural cosmetics may have on the skin. Finally, organic skin care products can replace many commercial cosmetics that you can't imagine your life without. This makes them a perfect solution for those whose skin is hyper-reactive and irritation-prone.
Environment-friendly
Constituents of organic and natural beauty products come from selected organic farms where neither synthetic fertilizers or pesticides are used. Such farms have no negative impact on the environment. Furthermore, many producers mind the packaging they use to sell their cosmetics in. More and more often they reach for recycled and recyclable materials.
Animal-friendly
Natural beauty products aren't tested on animals. Neither do they contain any animal-origin ingredients, which makes them cruelty-free products. Choosing organic cosmetics is definitely a more ethical decision that can be made – after all, they are entirely formulated with plant-origin substances.