TOP 10 Plant Extracts Ruling in Skin Care Products
We're already aware that synthetic substances aren't necessarily beneficial for the skin. The more you sink into this synthetic cosmetic mud, the more threatened your skin is. On the other hand, pure beauty is hidden in plants – their extracts make up a real garden of beauty which has nothing to do with chemical comedogenic substances. Which ones are the most desired and precious for your skin? How can you treat yourself to the best plant-based skin care? Here are the extracts that are definitely welcome in your bathroom. Plant beauty must-have guide for flawless skin and hair.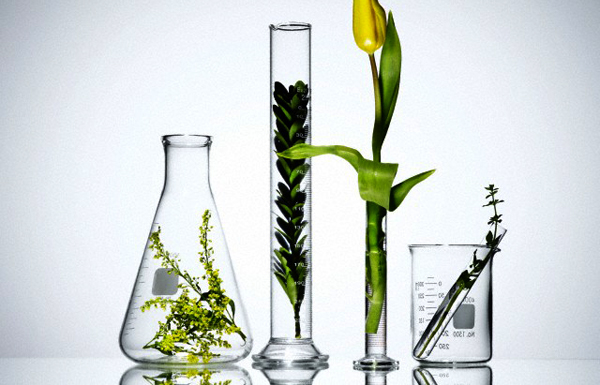 The best plant extracts in cosmetics
1. Aloe vera extract
INCI: Aloe Barbadensis Leaf Extract
Aloe extract (Aloe Barbadensis Leaf Juice, Aloe Vera Extract) is a diversity of precious compounds for the skin: aloins, polysaccharides, proteins, amino acids, resin, organic acids (amber, cinnamon), natural salicylic acid, minerals and vitamins (A, B, C, all water-soluble vitamins). It speeds up skin healing, stimulates cells to faster repair, has an anti-inflammatory effect, soothes and calms the skin, reduces redness and irritations, supports  the function of fibroblasts – skin cells which produce collagen and elastin. Aloe is also an amazing hair care substance: it prevents hair loss, triggers faster growth, strengthens bulbs.
2. Arnica extract
INCI: Arnica Montana Flower Extract
Arnica is a yellow and orange flower which contains anti-inflammatory, antithrombotic and astringent compounds. Cut out for skin care, prevents varicose veins. Arnica extract is used for treating various skin conditions, swellings, bruises. Ideal for couperose skin.
3. Cornflower extract
INCI: Centaurea Cyanus Flower Extract
The extract is derived from cornflowers containing anthocyanins, including cyanine and mineral salts. Even this blue colorant of a simple meadow flower has its place in cosmetics; it reduces irritations, gives a nice skin-illuminating effect, helps get rid of post-sun spots and discolorations, banishes dark under-eye circles. Since it is a hypoallergenic ingredient, it's a good choice for gentle skin, including the eye area.
4. Elderberry extract
INCI: Sambucus Nigra Extract
The extract from fair-color flowers is amazing for moisturising and regenerating the skin because it stimulates the production of hyaluronic acid, protects fragile blood vessels and increases elasticity. It is also a strong antioxidant, soothes irritations and lesions, prevents inflammation, purifies and has a gentle astringent effect.
5. Apple extract
INCI: Pyrus Malus Fruit Extract
Irreplaceable ingredient in cosmetics; it has an antioxidant effect, does away with free radicals, improves elasticity, stimulates the repair of the epidermis, brings back vitality and radiance.
6. European horse-chestnut
INCI: Aesculus Hippocastanum Seed Extract
For long years, it was one of the most effective substance for treating swollen legs or enriching moisturisers and eye creams. It stimulates blood flow, bolsters the walls of blood vessels, prevents the occurrence of swellings and inflammation. Few people know that horse chestnut extract moisturizes, adds elasticity, smoothes the skin and has an antiaging effect. It is also an excellent ingredient in shampoos, stimulating hair bulbs. The extract blocks the excessive oil production. Search for it in products dedicated for couperose skin and hair which tends to get oily.
7. Red clover extract
INCI: Trifolium Pratense Extract
A strong antioxidant which delays skin-aging processes, upgrades elasticity, keeps skin from sagging, smoothes out and firms up by stimulating the synthesis of collagen and elastin. Ideal for mature, oily and acne skin, as well as for couperose skin because of reinforcing blood vessels. Additionally, this extract has a soothing and repairing effect, and protects against the negative effect of UVB radiation.
8. Comfrey root extract
INCI: Symphytum Officinale Root Extract
A precious ingredient in 30 + creams. Comfrey root extract stimulates cells to repair and is rich in soothing and repairing allantoin. The extract also enhances the development of cells and speeds up their division (proliferation). It is a brilliant moisturising agent, has an anti-inflammatory effect, softens the epidermis and accelerates skin healing processes.
Thank to containing mucosa, it creates a protective shield for damaged epidermis.
9. Linden extract
INCI: Tilia Platyphyllos Flower Extract
It equals a diversity of active ingredients: essential oils give it a beautiful scent ad have an antiseptic effect whereas flavonoids fight free radicals, keeping the skin from aging. Linden extract has quite a lot of mucosa which protects and moisturizes, and a large quantity of vitamin C and mineral salts. Linden has a soothing effect and alleviates skin irritations in the eye area. It is perfect for problematic, sensitive and aging skin. The extract ensures a protective coat and upgrades the skin's ability to repair.
10. Ginkgo extract
INCI: Ginkgo Biloba Leaf Extract
Ginkgo leaf extract is a cosmetic marvel which used to rule in the beauty world. Today, it is (wrongly) forgotten. Ginkgo contains strong doses of antioxidants. Its antioxidative potential can be compared to vitamin C. It upgrades the production of collagen and elastin, rejuvenates and noticeably improves the appearance and condition of the skin. Flavonoid compounds included in ginkgo extract reinforce the net of blood vessels, ensuring excellent care for couperose skin.