Tricks for having flawless face skin. Clay and its beauty benefits
They have remained unspoiled, natural and safe for thousands of years. And this is where the power and strength of clay come from. They action is highly effective by outclassing many beauty products available in drugstores and pharmacies. At the same time, clays are universal, therefore using them to only treat face with is a huge waste of their potential. Just give them a chance and clays will pamper your body, hair and even replace face cleansing gel. Owing to clays, you can freshen up and clean face skin as never before.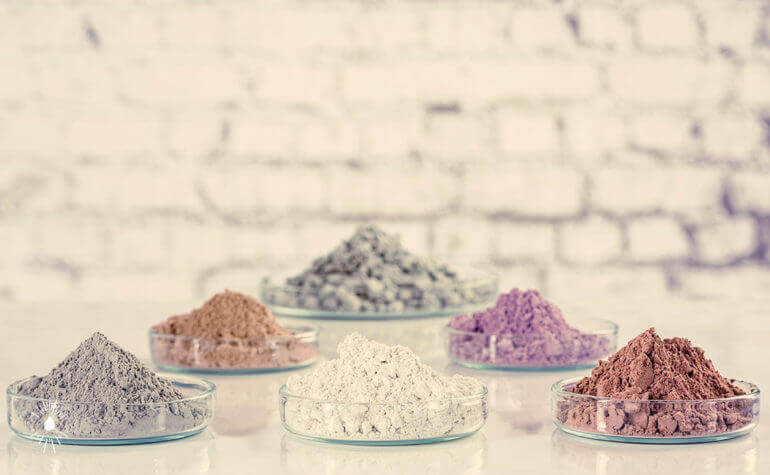 Beloved by eco-solutions supporters, and not only by them. Thanks to their availability and multitude of types, you can enjoy the diversity of micro and macro elements that clays offer.
What can you find in clays?
Zinc, phosphorus, silicon, magnesium, copper, potassium, selenium, calcium, iron and trace amounts of other elements which significantly improve the state of skin and hair providing that regularly delivered to organism. They originate from uncontaminated regions of world. Natural aluminum silicate minerals are obtained from caves, volcanic dust, backwater and soil.
How do clays work and how to apply them?
1. FACE
Clays leave skin clean owing to the difference between positive and negative electric charges. Similar action is displayed by activated charcoal and micellar lotions. To clarify, clay attracts all impurities that reside in skin pores, including sebum, so face becomes smooth, lightened up and radiant. Skin tone becomes even. Moreover, clays are able to encourage collagen synthesis which positively influences skin lifting and promotes youthful look.
2. BODY
Clay is really good at dealing with cellulite. Apart from that, this substance disinfects organism and balances pH level. Last but not least, clay dressings relieve chronic muscle pain.
3. HAIR
Clay hair masks are the real hit when it comes to greasy and heavy hair care. This natural substance is able to retrieve and take off residing sebum. This in turn positively influences supplying scalp and hair bulbs with oxygen.
Types of clay
White clay (kaolin) – also known as china clay. Incredibly delicate and exceptional since it's iron-free, yet it contains quite a concentration of aluminum. It brings relief, regenerates, nourishes and cures epidermis. Perfect for mature skin with visible fine lines, dry and fatigued. It can be also applied to sensitive and hyperactive skin types.
Blue clay (montmorillonite) – also referred to as bentonite. It's perfect even for very problematic skin type since it can be used in the case of psoriasis, eczema and seborrhea. Blue clay improves microcirculation, supplies organizm with oxygen and nourishes tissues.
Red clay – universal and gentle. Recommended to allergic, oily, acne and couperose skin types. It's known for its ability to constrict and seal capillaries.
Green clay – intensive, perfect even for extremely oily skin. It's one of the most frequently used clays. This substance offers a high concentration of iron which combined with the disinfecting properties of green clay's makes it a potent agent to deal with problematic skin types (combination, acne, affected by eczema and psoriasis). Moreover, this clay cleanses skin deeply which translates into significantly reduced appearance of acne and blackheads. For that reason, green clay is recognized as a powerful weapon against wrinkles.
Black clay – obtained from the bottom of the Black Sea, which is known as being one of the most recognized for its medicinal properties water reservoir. Black clay beautifies all skin types. It can be applied to the entire body.
Clays – How to use them?
The most effective way of applying clay is to put it on dampen with herbal distillate and cleansed with a scrub face skin. In most cases clays appear in two forms: either a ready-made paste or dry powder that has to be combined with water, herbal distillate or oil.
The layer of clay applied to face should be thick. Naturally, you should avoid eye skin and lip skin. What's also important to realize, clay loses its properties when being in contact with metal objects. For that reason, it's advised against using regular spoons to prepare a clay face mask. Instead, reach for either a wooden or plastic spatula.
This beauty treatment has to be carried out once a week, maximally twice. Let the mask sit on your face for approx. 10-15 minutes and then rinse with warm water by applying circular motions. As the last stage, use a preparation that will help you close skin pores. You can reach for a facial toner that answers your skin needs. Naturally, don't forget to follow with your favorite moisturising cream. Otherwise, your skin that has just been cleansed by clay, might be stimulated to produce even more sebum.
Did you know that…
Mixing a few clays together is beneficial! For example, once you combine white and red clay, you will obtain other type of clay with different set of properties and a little bit gentler action. Give a try to clay care to discover how much you can win!
Another recommended way to apply clays is by using so-called mosaic technique which depends on matching clays to particular face parts. For example, problematic T-zone might be treated with green clay, whereas the rest of the face might be covered with either white or other type of clay that deals with your skin needs.